Fashion is an ever-changing, revolving, and slightly adapting spectrum. Since the beginning of time, fashion has been integrated with body types, and women have been viewed as a malleable entity – like their bodies could be moulded to fit into the trend of a particular era.
As times and seasons have changed, so has the definition of an ideal body evolved. The need to have an ideal body imposed on women by the dysfunction that exists in society has proved itself severally. With the recent shift in people's perception of their existence and biological build, could it be said that fashion's non-inclusiveness of certain body types is sustainable?
Every generation had a go-to body type which could be described as the ideal body. The implication is that a body type is set as the standard hence there is a fervent need for women in that era to attain the set standard.
In the early 18th century, which was also described as the Victorian Era, the ideal body was a slender frame, this caused the dominant fashion staple to be corsets which gave the illusion of a cinched waist. The '90s took a different route as regards fashion and the ideal body. It was an era where women were being accepted to vote and exercise their rights as human beings, in a bid to resist conformity and be recognised as being equal. women then downplayed their curves thereby giving off an androgynous look, clothes created then gave a nod to the skinny frame. Throughout the 90s, the taste of people was changing, it was the time technology also came to stay, but the prevalent body type was still the skinny frame. Most fashion and couture pieces created in that era didn't cater to the plus-size woman, the runways were also comprised of people of similar body types. The early 2000s took a different, diverse and amorphous turn. It was the era that encourages sexuality and sensuality in women whilst maintaining a slim frame. It could be described as the birth of the rebellious era where women liked to show more skin in their dressing. This transcended into the fashion culture in the early 2000s to be daring and bold. It was the era that invented and brought "plastic surgery" into the limelight.
In recent times, from the mid-2000s to date, the ideal body type and the fashion world have taken a drastic turn. The ideal body type has become the voluptuous figure and due to the widespread of cosmetic procedures, there has been a craze to attain the set standard. This era has seen women go under life-threatening procedures like butt lifts, skin bleaching, facelift, botox and other procedures to attain a certain body type because it is deemed to be socially acceptable. It should be noted that this era also marked the intense clamour for fashion to cater to all body types. Some women who have attained a level of importance in society like Lupita Nyong'o, Lizzo and many others have actively used their platform to get rid of the shame accustomed to the female build-up.
As regards the fashion culture in this era, a different turn has been taken as stylists and fashion designers have embraced outfits that embrace the female body. It has been a gradual but intentional process on the part of some designers to include all body types on the runway which in turn has sparked a wave of acceptance by the audience. It could be said the middle 2000s has not only embraced more body types, but with the help of the media, more women who would not have been identified as socially acceptable are finding their voices and creating a safe space for themselves.
Mallorie Dunn, a fashion designer who founded the clothing line Smart Glamour spoke about body image as regards fashion. She said she hopes to counter society's unrealistic standards with her clothing line by creating pieces for women of all sizes.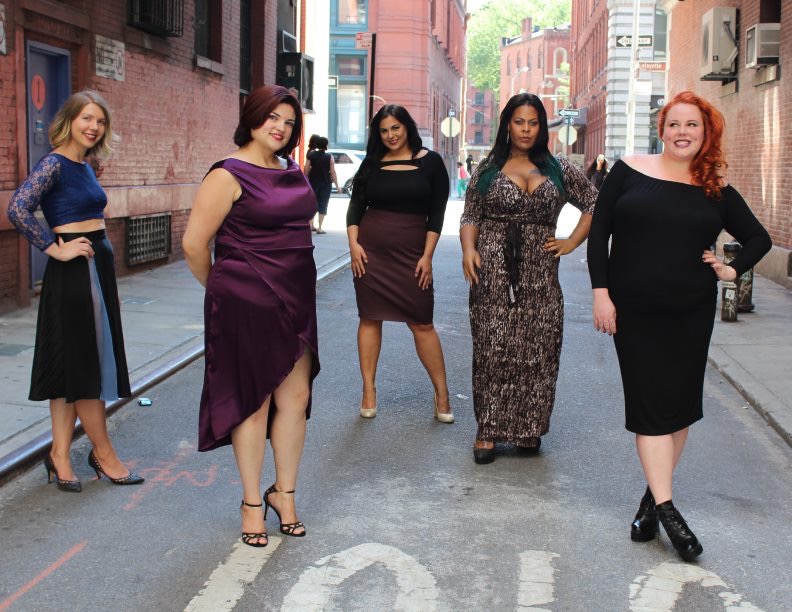 Some Nigerian fashion brands have also taken in these steps to cater to women of all sizes. Despite the clamour and eventual shift of fashion from catering for only the ideal shape to accommodating other body types, fashion has still not succeeded in accepting all body types as ideal. Over the past years, women previously deemed to not have the socially acceptable body type, have come out with the help of online media, to share their experiences with finding clothes that they feel comfortable in. It has been brought to light that some designers discriminate against some body types. It should also be noted that plus-size women more often than not, search harder for outfits because of their size. In a generation where the movement for exclusivity in fashion has been on the high rise yet, one body type is still being glorified as the standard, it gives people a side to pick. Women who are on the slimmer side have also expressed their discontent with the fashion staple available these days as it promotes an unrealistic standard most women can't meet up to. The fashion industry needs to be more allowing as the easy fluctuations in trends don't leave room for sustainability.
Authenticity has a huge role to play in fashion. Every era had a body type that was deemed ideal but it should be noted that there were a few women that went against the norm with their fashion style. It is shocking that body shaming still has a strong foot in our society today but due to the movement of body inclusivity, more voices have been heard, more people feel comfortable in their skin and they have been able to build a community of women who are not proclaimed acceptable by society. Fashion brands should also cultivate the habit of authenticity in their pieces. Clothes should not just be made to fit a certain body type, there should be diversity in styles, and shapes so they can be readily available to women of all sizes as this is the only way a designer can create a fashion piece or statement that is so timeless it defies the laws of time. It is important as women, that we are not swayed by society's dictates because they are unstable and non-inclusive. It is important we work on our self-esteem and we breathe authenticity into our lives.
Above all, women need to be unapologetically true to themselves.
Image source: therevolutionists.tumblr.com, elle.com, the everygirl
__________________________________________________________
Moshope Adesanya is a law student at the university of Olabisi Onabanjo University and an intern at TW Magazine.