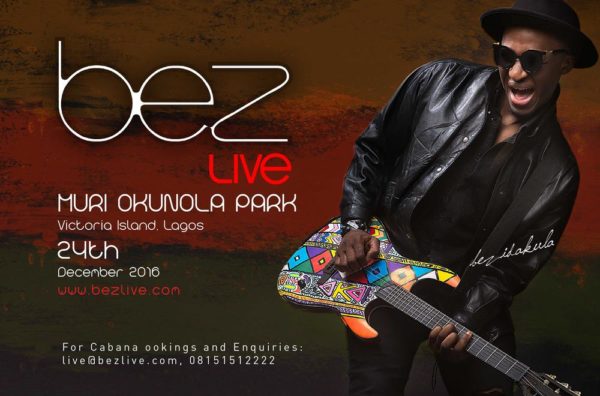 This December, Nigerian Alternative Soul singer, Bez is set to thrill music lovers with the Bez Live  2016. The music festival has been announced to hold at the Muri Okunola park on the 24th of December, 2016.
The music festival has been the norm with all of the celebrated singer's performances. The festival will be the perfect way to celebrate the holidays especially for music lovers and Bez fans . In his words " I will be showing my fans the different parts of Bez. Expect an electrifying performance, the biggest and best music festival ever hosted in Nigeria"!
 Bez's  ability to keep his audience spellbound every time he hits the stage remains his ace in the hole. Since his breakthrough album Super Sun released in 2011, Bez has successfully made his mark as one of Nigeria's biggest music exports and this is evident in his international and local relevance over the years with classic songs like Stupid Song , More You , Zuciya Daya all from his history making album Super Sun which topped the Boston Globe Top Ten World Music Album of 2011 and most recently his There's a Fire and You Suppose Know which continues to receive amazing reviews.
Tickets: 5,000
Venue: Muri Okunola Park , VI
Date: 24th Dec, 2016
Time: 3pm